Scheduling live video sessions with your provider is easy with the new scheduling tool!
Follow the steps below to schedule a live video session with your provider:
Log into your account on www.talkspace.com or via the Talkspace app.

If you haven't already, please also make sure your app is up to date.

Once logged in, scroll down to the Therapy Tools or Tools section.

If you're in your chatroom on the app, click on the green arrow () in the top left corner to access this page.

Under the Therapy Tools or Tools section, click on Live Video Sessions.

From there, you will be able to select a provider.

Once you have chosen a provider, click on Book A Session and select a session length.

If you do not have a session credit available, you will have the option to purchase one.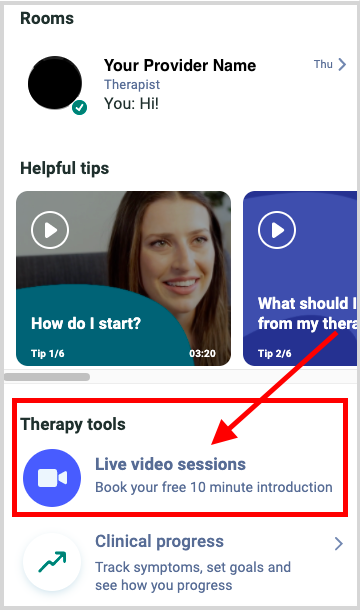 Note: Your provider has up to 24 hours before the scheduled session to confirm.