Adding your partner is easy—here's how:
Log into your account on www.talkspace.com.
At the top of your chat room, click on the Add your Partner to the Room banner.

If you don't see this banner, go to the Room Details page by selecting this icon () at the top right corner of the page.
On the Room Details page, select Add your Partner.

Follow the instructions on-screen.

You will be prompted to enter your partner's email address, who will then receive an email invitation to join your couples chat room.
The link to join will be valid for 24 hours. During this period, you'll have the option to revoke, or resend should the time lapse before your partner is able to accept.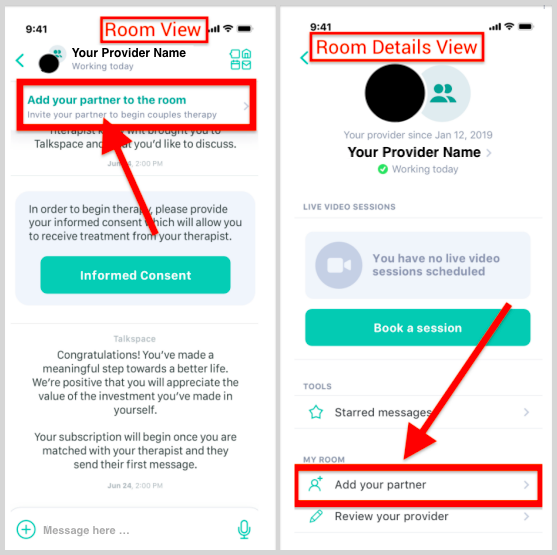 Make sure:
You and your partner aren't logged into Talkspace on the same device simultaneously.

If another device is not available, please use incognito or private browsing mode on your browser.

If your partner doesn't have an existing Talkspace account:

Create an account using the same email address the invitation was sent to.

If your partner has an existing Talkspace account:

Your invitation is sent to the email address on file for your partner's existing account.
Your partner accepts your invitation using the same email address that the invite was sent.