As a teenager, a lot of changes are happening at once—physically, hormonally, and developmentally. Prioritizing your mental health is just as important as grades, accomplishments, or college admissions. With Talkspace, if you're between 13 and 17 years old, you can connect with an online counselor or therapist you feel safe with to work through various challenges.
For parents and guardians, we'll guide you through how to provide your teen with therapeutic support.
A Teen's Guide to Therapy
What can I talk about with my Talkspace provider?
You can discuss anything you would like with your Talkspace provider. This could include school, relationships with family or friends, mental health symptoms, or anything that's on your mind—good, bad, or in between. Talkspace providers can help you navigate difficult times, and are also there to help celebrate your progress and successes.
How to do I sign up for Teen Therapy? And is it confidential?
The sign-up process for teen therapy is similar to the process outlined in
How do I sign up for Talkspace?
However, when prompted to select the type of services you're looking for, make sure to select
Teen Therapy
. If you're a NYC resident, be sure to scroll down to our
NYC TeenSpace Program
section of this article—you may be eligible for free therapy!
It's important to note that during the onboarding process, Talkspace will request parental/legal guardian consent in accordance with state regulations to continue providing services. To determine if you're exempt from this requirement, visit Consent Exemptions for Minor Clients of Talkspace. While a parent or guardian may need to grant consent for you to use Talkspace, the information that you share with your Talkspace provider remains private. Your permission is required before Talkspace can engage in any communication with your parent or guardian regarding your progress.
To protect the privacy of all our clients, all Talkspace accounts must be registered under the name of the individual receiving the services. The account should reflect your first and last name, email address, date of birth, and other personal details. In cases where you're a dependent of the primary policyholder and qualify for Talkspace services at no or partial cost, you can enter the primary policyholder's employer or benefits provider information when prompted at sign-up. For information regarding costs associated with teen therapy, please visit Talkspace Services + Pricing.
---
A Parent's Guide to Therapy
How can I support my teen with their journey to better mental health?
Talkspace's teen therapy is designed to support dependent/users aged 13 to 17. If your teen is interested in enrolling in therapy with Talkspace, visit
How do I sign up for Talkspace?
For insights into the state-specific requirements regarding counseling minors under the age of 18 and how to provide consent for your teen to receive services from Talkspace, check out Consent Exemptions for Minor Clients of Talkspace.
In addition to our therapy services, we recommend reading our blog post titled How to Help a Teenager with Mental Health Issues. This blog offers guidance on various ways you can provide support to teens in managing their mental well-being.
I'm interested in speaking with my teen's provider and obtaining a copy of my teen's medical record. How should I proceed?
Can I check if my teen is using Talkspace?
Depending on the laws of your state, your teen may need to provide Talkspace with consent, prior to sharing information with you. Please reach out to
privacy@talkspace.com
for guidance.
---
NYC TeenSpace Program
What Talkspace services are being offered to NYC residents and who is eligible?
Through the New York City Department of Health, individuals between the ages of 13 and 17 who live in one of the NYC boroughs (Manhattan, Staten Island, Bronx, Brooklyn, and Queens) can enroll in Talkspace's NYC TeenSpace program, which offers free therapy tools and services. 
To confirm your eligibility, you'll need to provide your address and date of birth during the registration process. To get started, visit https://www.talkspace.com/coverage/nyc for more information and frequently asked questions about the program. 
If you're eligible, you'll have free access to the following: 
Talkspace Go (also known as Talkspace Self-Guided)  

This app grants access to hundreds of self-guided sessions, daily reflection questions, and therapist-led workshops available both live and on demand. You'll also complete a questionnaire that may recommend therapy with a Talkspace provider and you can choose to sign up if it aligns with your needs. Feel free to explore more about Talkspace Go here.

Talkspace Therapy  

With Talkspace therapy, you'll be able to connect with a personal Talkspace provider of your choice as often as you'd like through asynchronous messaging. You'll can also schedule one 30-minute virtual live session with your therapist each month. Find out the differences between live sessions and messaging sessions at How does Talkspace therapy work?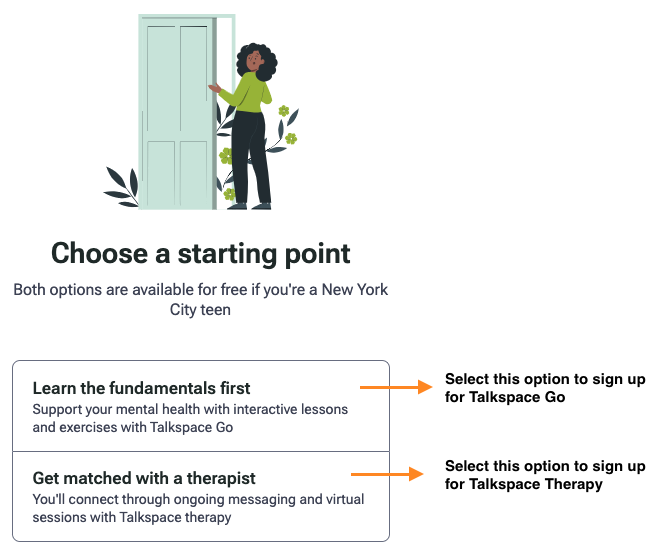 A couple notes on eligibility and programming:
At this time, medication management is not included in this program.

Teens who will turn 18 after signing up will retain free access to Talkspace until June 30th of that year if they remain in NYC.

Teens moving out of the NYC areas will no longer be eligible for this program, but can update their plan and payment to continue Talkspace services. 
I'm having trouble signing up under NYC TeenSpace. How can I fix this?
If you're encountering issues signing up for NYC TeenSpace, please check that:
You're signing up directly from http://www.talkspace.com/nycteenspace. If you choose to sign up from our main website or the Talkspace app, make sure you select Teen Therapy to see information on the program.
You're entering your NYC address correctly.
You're currently between the ages of 13 and 17 years.
Still experiencing an error? Our General Troubleshooting Tips help resolve most issues!
Who to contact for more information about accessing and learning more about NYC TeenSpace?
Please review the frequently asked questions at
http://www.talkspace.com/nycteenspace
to see if the answer already exists. If you are unable to find an answer, you can contact our support team directly
here
or by calling
1 (888) 850-0986
.