We understand that navigating mental health services can be stressful, which is why we designed our billing process to be simple. With or without health insurance, we make the process of getting help easy. Talkspace clients are billed depending on their plan, billing frequency, and if they're receiving services through an organization or in-network health plan on their account. 
Out-of Pocket/Out-of-Network
Psychiatry Plan:
It's not subscription-based. You'll be charged a one-time fee for each session you purchase.
Therapy Plan: This is a subscription-based plan, and billing starts when you're matched with a provider. All therapy plans automatically renew on the same day of the month (e.g., 10th, 12th) unless you choose to pause or cancel your subscription. You can review these details during sign-up when selecting a plan or within your account on the web or mobile app.
To view your next billing date:
Log into your account at www.talkspace.com.

Click on your nickname located on the top-left corner of the screen.

From the dropdown, select View payment and plan.
On the Payment and plan page, you will find your billing cycle and the next renewal date.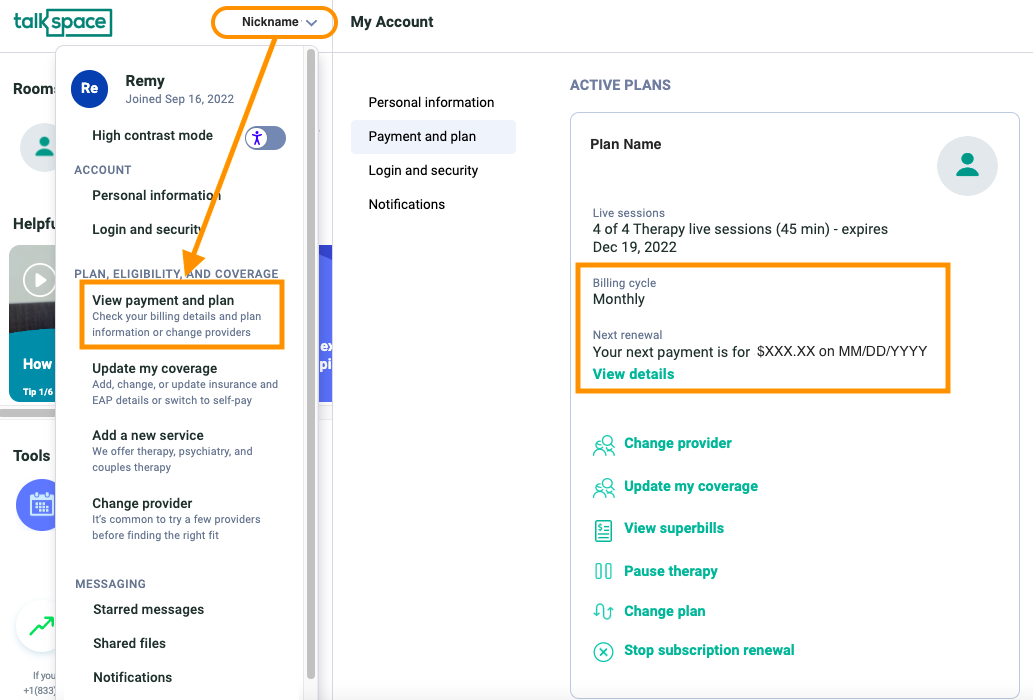 Click image to enlarge
Log into your Talkspace app.

Click the gear wheel () at the top-right corner of the page.

If you are in the chatroom, click on the green arrow (or ) at the top-left to return to the Rooms page and locate the gear wheel.

Now on the Settings page, click on Payment and plan.
On the Payment and plan page, you will find your billing cycle and the next renewal date.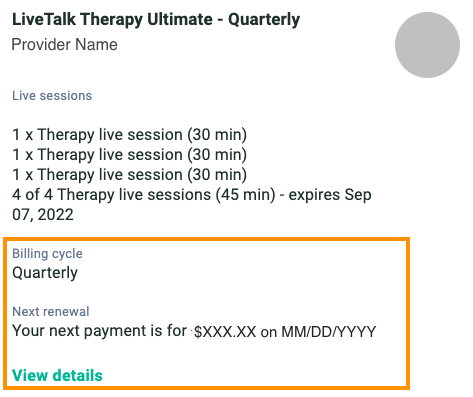 Click image to enlarge
If you're out-of-network, we make it easy for you to get reimbursed. Learn more about ways to pay and submitting expenses to your HSA/FSA or out-of-network provider.
In-Network or Behavioral Health Benefits
If you are in-network through your health plan/behavioral health benefits, you're subject to the same
cost-share (copay/deductible)
that would apply to an in-person visit.
To start a session, you'll have to authorize and schedule one. Once the session is completed with your Talkspace provider, you'll be charged any applicable copay dependent on your plan. Insured members pay an average copay of less than $30*. Explore average costs per plan here.
After a health insurance claim has been processed, any necessary billing adjustments due to refunds or additional cost-share will be automatically applied to the card on file.
*

Copays represented are averages for Talkspace members. Please check your health insurance coverage; your final copay may vary based on your coverage.
No-show or late cancellation fees for Talkspace's live sessions may apply.
Employee Benefit Plans or Employee Assistance Program (EAP)
Talkspace is available to you for free if you receive it as part of your employee or EAP benefits package. Please contact your benefits department if you have any questions on the benefits available to you. 
Employer Sponsored Benefits
If you're covered through your employer, your employer has joined with us to provide you with access to our licensed providers as a confidential benefit at no cost to you. Please contact your employer or benefits department to understand your benefit and if your family/household members are also covered at no cost.
Related Articles